Tenrikyo Young Men's Association Headquarters held the 27th International Cultural Seminar on the afternoon of April 26 at Moya 38 with the participation of 234 people. This seminar aims to heighten association members' awareness of the overseas mission, provide relevant information, and encourage directly supervised chapters to conduct more activities related to the overseas mission.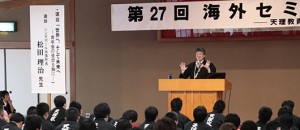 After the opening remarks were delivered by Association Headquarters Overseas Section Head Motomichi Uemura, Rev. Masaharu Matsuda, head of Tenrikyo Mission Center in Singapore, gave a lecture entitled "To the World, for the Future—The Mission of the Young Men's Association."
Rev. Matsuda started by referring to the association's mission, saying: "There might be an increasing number of members who do not recognize the overseas mission as the mission of the Young Men's Association." Reflecting on the steps the association has made to promote missionary work overseas, he went on to share with the audience his experience as committee member of the Association Headquarters.
He then quoted from the address delivered by the second Shinbashira, Shozen Nakayama, at the Young Men's Association Restoration Convention in 1946. Rev. Matsuda explained that even in the immediate aftermath of the war the second Shinbashira made it clear that the mission of the Young Men's Association members is to spread the teachings in overseas countries. Furthermore, Rev. Matsuda pointed out that the second Shinbashira encouraged the association's members to ensure that they were prepared to give their very best when they were called upon. He then said: "You can make sure you are always ready by carrying out missionary work and seeking the path on a day-to-day basis. It is important therefore for you to make these efforts and sow seeds of sincerity so that you will be prepared to respond when you are called upon."
Rev. Matsuda went on to note that Japanese society is becoming increasingly internationalized by an influx of foreign workers among other factors. He concluded his lecture by saying: "It is indispensable for you members to proactively go out to the world so as to advance world salvation. I would like each of you to have absolute confidence that you are capable of making a contribution to the overseas mission."