The Oyasato Fusekomi Department of Tenrikyo Language Institute (TLI) conducted mission training in Kobe for a week beginning on November 11. This training was designed to provide an opportunity for students to be exposed to and learn Oyasama's Divine Model and the hardships of early followers through devoting themselves to missionary work.
This year, a total of 22 students from 11 countries and regions are enrolled in the Oyasato Fusekomi Department. Most of the students graduated from the Japanese Language Department of TLI in the spring. Through their current one-year course, students learn and implement the teachings in and around the Home of the Parent while practicing their Japanese skills, so that they can take a leading role in sprinkling the fragrance of the teachings in their home countries in the future.
The mission training was supported by nine female missionaries from the Hyogo Missionary House as well as staff members of the Hyogo Diocese Administration Office.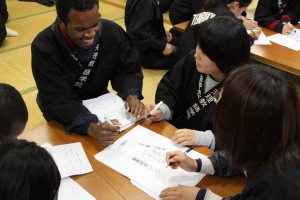 Along with the missionaries, students engaged in missionary work throughout the day without lunch. At 9:30 a.m.—before they went out to sprinkle the fragrance of the teachings—students formed a circle with their arms around one another and shouted, "Oyasama!" so as to ensure that they would work spiritedly while leaning on Oyasama. After coming back to the diocese office each day, they had a reflection session, in which students shared with one another what they felt and learned through missionary work.
On the 16th, Gwang Gyu Lee, a student from South Korea, delivered a roadside speech on a busy street. When he finished his speech, a woman came up to him and said: "My grandchild refuses to go to school. I couldn't talk about this to anyone around me. I wonder if you could listen to me." Lee had thought that few people payed attention to roadside speeches and even wondered if there was any point. However, he now realized that through devoting his sincerity to speeches, he could certainly meet people who needed help.
On the same day, Naiyavat Wiangkaew, a student from Thailand, saw a fierce-faced man walking with a stick. She spoke to him: "Hello. I'm a student from Thailand and studying Tenrikyo. Would you like a leaflet about Tenrikyo?" Yet he made no response. Seeing the situation, a missionary from the Hyogo Missionary House, who was there with Naiyavat, spoke to the man while walking close to him for a while. The missionary then administered the Sazuke to him. Naiyavat was surprised and thought, "How come she could be so considerate to people like him, who didn't seem to care what we said?" At that moment, she realized, "This is the spirit of single-heartedness with God and the mind of single-hearted salvation!" She said: "The missionary's behavior was filled with compassion and modesty. I learned from her that the important thing is to convey the feeling that I want to help people be saved without getting caught up in outward things, such as speaking effectively and handing out leaflets."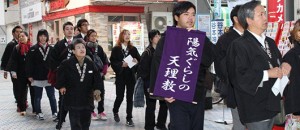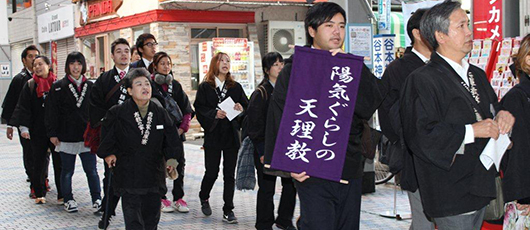 On the 17th, students were divided into five groups and walked to assigned stations in Kobe while singing the Eight Verses of the Yorozuyo. Daniel Ferrarini, a student from Brazil, delivered a roadside speech at the Hanshin Iwaya Station, saying: "Hello, everyone. I am Daniel from Brazil!" Before going to Kobe, he had been worried that he would not be able to convey what he wanted to say in Japanese and the thought of doing missionary work had kept him awake at night. Once he began doing door-to-door missionary work, however, he found that he could say, "Thank you," to even people who refused to listen to him. "I was surprised to find myself naturally bowing my head with a smile when trying to keep my mind humble. I realized that I get anxious when I only think about myself. I learned the importance of just leaning upon Oyasama and sincerely praying for the salvation of others," he said.
On the 18th, the last day of the mission training, students reflected on and shared with one another things they had felt and learned through the training. During the training, students and missionaries visited a total of 3,010 homes.