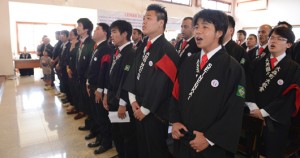 The Shinbashira and his son, Daisuke visited Brazil from July 10 to 15. They attended the 60th anniversary convention of the Brazil Chapter of Tenrikyo Young Men's Association on the 13th, besides paying a visit to four churches in the country on the 11th and 12th.
On the day before the anniversary convention, groups of members started arriving at the mission headquarters one after another. Among them was a group that had spent about 50 hours traveling from Recife City, located in the northeast of the country, to Bauru City, where the mission headquarters is located.
A total of 961 members assembled for the convention on July 13. They performed the Eight Verses of the Yorozuyo and the Twelve Songs in unity of mind in front of the sanctuary of the mission headquarters. At the subsequent ceremony, which began at 2:00 p.m., the Shinbashira delivered an address. Having begun his address by referring to how Tenrikyo Young Men's Association was founded, he spoke on the mission of Arakitoryo, pioneers of the path—which is to say, engaging in missionary work and seeking the path. The Shinbashira mentioned the association's guidelines, "Develop faith and spread the teachings in single-heartedness with God," and explained that the primary duty of the Young Men's Association is to take the lead in missionary work with a commitment to do everything necessary to spread the teachings. He went on to say, "I would like you to strive to sprinkle the fragrance of the teachings and engage in salvation work, in addition to making efforts to acquire the fragrance yourself, by taking advantage of your youthful vitality and enthusiasm."
The Shinbashira then stressed the importance of proactively participating in the association activities, which are opportunities for spiritual growth. Referring to the 130th Anniversary of Oyasama, which will be observed in 2016 (Tenrikyo 179), he encouraged the congregation by saying, "My hope is that you association members continue to maintain the spirit and enthusiasm that befit Arakitoryo and to promote the activities in high spirits and with your minds as one."
Following the Shinbashira's address, Bishop Yuji Murata of the Mission Headquarters in Brazil gave a congratulatory address, and Akio Matsunobu, chairman of the Brazil Chapter of the Young Men's Association, also made a speech. The congregation then joined together in singing the Tenrikyo Young Men's Association Song in Portuguese.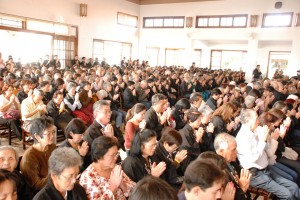 On July 14, the Shinbashira attended the July monthly service of the Mission Headquarters in Brazil. After the service, he took the podium to deliver the sermon to 2,250 local followers, asking them to renew their resolve to work hard with decisive courage during the season leading up to the anniversary of Oyasama.