On May 2, Tenrikyo Aimachi Marching Band gave a performance in a parade in World Expo 2010 Shanghai China. They were officially invited to perform by the event organizer, which highly valued their recent contribution to international cultural exchange activities. Prior to their performance in the expo, they were also invited to perform at the opening ceremony of Shanghai Spring International Music Festival, which was held in Shanghai Grand Theater on April 29.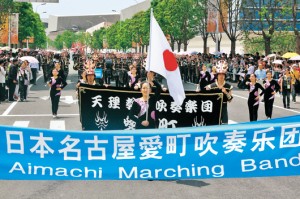 Under the theme "Better City, Better Life," the Shanghai World Expo runs from May 1 through October 31. With a record 246 countries and international organizations participating, the 184-day World Expo has already drawn over 10 million people as of June 5 and is expecting about 70 million visitors throughout the event period.
Under the theme "Singing the Future of Our Cities with the World's Smiles," five parades a day are organized on two routes, featuring diverse music and dance performances from all parts of the world.
Two years ago, the marching band played at Shanghai Spring International Music Festival as a guest performer. In high praise of their contribution to cultural exchange between China and Japan through music, the Bureau of Shanghai World Expo Coordination sent the band an official offer last summer inviting it to perform at the expo.
On May 2, the day after the grand opening of the expo, the 108-strong marching band made an appearance in a parade, which attracted many people along the route. The procession was led by a float carrying Haibao, the official mascot of Shanghai World Expo. The marching band appeared after dance performers in various ethnic costumes and marched down about a mile-long route for an hour while playing "Tenrikyo Young Men's Association Song" and "Let Our Spiritual Flower Blossom."
Band Director Kiyokazu Sekine said: "It was a great opportunity for us to have people from all parts of the world listen to some Tenrikyo music. Given that marching is not as well known in Asia as it is in other regions, I also hope that our performance was able to help people become familiar with it here. We would like to continue to maintain the kind of performance that can bring joy to as many people as possible in domestic and international arenas."