On December 12, 2012, Tenri University held the ninth Faith Forum Lecture entitled "The Goal of Tenri Yorozu-sodansho Foundation," in which the chairman of the board of directors of the foundation, Honbu-in Ichiro Yokoyama, delivered a lecture on current Tenrikyo-based healthcare services.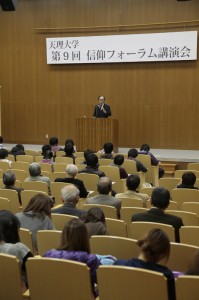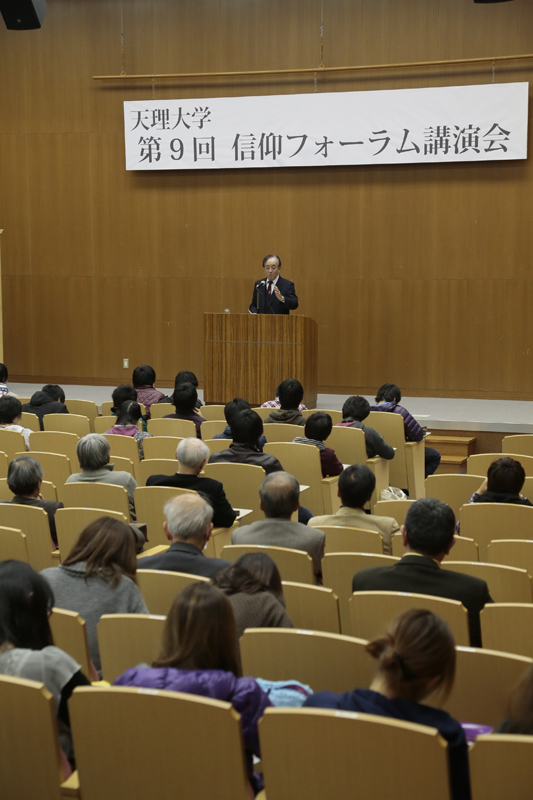 He first spoke about the aims of the foundation: "To develop a vision for the future, we must look at the beginnings and the history of the foundation."
Honbu-in Yokoyama reviewed the key principles of Tenrikyo-based medical services, which arose from activities related to the "dual anniversaries," namely the 50th Anniversary of Oyasama and the 100th Anniversary of Tenrikyo. He quoted from an address given by the second Shinbashira at the opening ceremony of Yorozu-sodansho: "We should make use of medicine and medical treatment if necessary. Yet, medical treatment alone cannot cure everything. Without providing care for the mind as well as the body, our medical care cannot be said to be complete. In other words, our medical care can only be complete if it helps patients realize their causality and reconstruct their mind to make it joyous."
Honbu-in Yokoyama then mentioned that since the opening of Ikoi-no-Ie Hospital in 1966, the hospital has worked to keep pace with technological advances in order to offer leading-edge medical care.
Next, he covered such topics as the opening of Tenri Health Care University last year and the hospital's ongoing construction of a new ward for inpatients.
In conclusion, Honbu-in Yokoyama pointed out that behind Ikoi-no-Ie Hospital's progress—as one of the nation's leading medical institutions—has been the work of highly skilled doctors as well as nurses who have found joy in serving patients. He said: "All the staff members of the foundation intend to put effort into further improving the quality of both its facilities and services while bearing in mind the principles of the foundation. I believe that this is the way for us to bring joy to Oyasama."